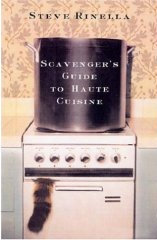 I will begin by describing the book I am reading today: Scavenger's Guide to Haute Cuisine
by Steven Rinella. It's about food - you k now, cottontails, elk, baby pigeons, turtle, the usual stuff. How did I find it? I was scavenging of course! At my local library in the New Books Section. I am one who is addicted to cookbooks and culinary literature. Food related travel books. Journals written by food people and biographies of chefs, gourmets, food producers and anything else I can find. This is my favorite recreational reading and whenever possible my chosen form of bedtime reading since I believe that what one reads before falling asleep will affect one's dreams. I've decided to chronicle my adventures in food reading for your amusement. Welcome, dear reader, as they say.
So when I came upon the Scavenger's Guide I thought it looked promising. The cover showed a huge stock pot on a stove that had a raccon's tail caught in the oven door. So really it looked like my kind of read. Just when it was due back I picked it up and now I can't put it down. Fascinating really. more to come...
Further Reading:
Auguste Escoffier - Le Guide Culinaire
(Cracknell translation)
Alexandre Dumas - Dictionary of Cuisine
, which includes a recipe called "Larks in Casserole"
Lawrence Zeleny - The Bluebird: How You Can Help its Fight for Survival
For the Inquisitive Reader:
Floyd Van Ert for CONTOLLING English sparrows and starlings
Interview with Steven Rinella and a long excerpt
Ling Cod Phiodon elongatus
San Juan Islands
British Camp National Park
Meet the Eel Man, Ray Turner
American Eel Identification
Olde Time Eel Soup, Marinated Eel & Fried Eel Recipes
December 16, 2006 11:39 am EST Last updated: December 16, 2006 8:25 pm